You're In Good Hands
HyperVibe is company devoted to Whole Body Vibration. Our team is made up of health experts, fitness enthusiasts, and technical professionals from the Sunshine Coast, Queensland, Australia and around the world.
From small beginnings more than 10 years ago, just a few of HyperVibe's accomplishments include:
– Winner of Australian Govt Department of Innovation Grant
– 2 Registered Patents
– 5 Proprietary Product Designs
– Scientific Research
– International Representation
Many years researching, developing, and training with Whole Body Vibration machines made it clear that like other areas of the Wellness industry, the Whole Body Vibration market has its fair share of misinformation, dishonest marketing and inflated prices. Our aim is to provide consumers with the most affordable, highest value for money Whole Body Vibration platforms possible whilst only making claims we can support and being honest in our marketing.
Vibration Can Be Measured!
Your body responds to vibration according to the dosage it is given, and the dosage of vibration is measured by Acceleration or G Force. The trouble is, very few vibration machine manufacturers advertise their G Force rating, some aren't aware of it or try to hide it, others try to convince you that anything more than the low levels their cheaply made machines produce is dangerous.
HyperVibe machines deliver a whopping 10G's of G-force or higher, figures that have been confirmed by independent testing on numerous occasions. This far out-performs our leading competitors machines which can cost upwards of seven times as much.
If you can find another Whole Body Vibration machine with more G Force for the money, we'll beat our competitor's price by 50%
World's Largest Private Collection of Whole Body Vibration Machines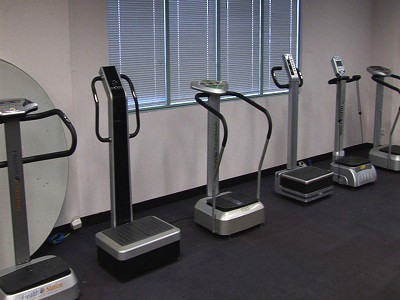 Proof of Hypervibe's devotion to Whole Body Vibration is the collection of machines owned by Hypervibe's founder Murray Seaton; to date, over 40 machines and growing.
Why spend so much money on machines he knows to be not worth the money?
Realising that the deceptive claims and dishonest marketing used by competitors was not only taking clients away from Hypervibe, it was giving the industry a bad reputation, Murray set out to get independent proof that the competitors machines fail to live up to their own claims and fail to match Hypervibe's reliability, performance and output.
So far we're proud to say only one of those 40+ machines has been able to match Hypervibe's high output but with that competitors price tag of around $20,000 we feel confident you're getting the best possible value for money by choosing a Hypervibe machine.
For more about the independent testing used to confirm the real output of all those machines get the free report.