DISCOVER THE REAL BENEFITS OF WHOLE BODY VIBRATION
The new evidence and research that proves without question, that a few minutes day can help you:
REGAIN your independence, balance and flexibility at any age1,2

TRANSFORM your body, strength, and energy in record time3,4

QUICKLY reach your performance goals with less injury5,6

DRAMATICALLY improve your figure, skin, and pelvic floor7,8,9,10

EFFECTIVELY relieve muscles and joint pain as well as change your health and wellbeing3,11,12,13
Imagine if you could stand still on a machine and experience ENERGY like a 20 year old again or just to be able to make it through the day without feeling wiped out and utterly exhausted3
Think about what it would be like if you could have the physical balance, strength and stamina of an athlete to run laps around the track and perform physical activities you couldn't even dream of doing right now?3,4,11
Picture what others might say if you could sport a lean, sculpted, strong body that turns heads when you are at the beach or pool?3,4,10,14
Envision yourself spending less time warming up, in recovery or suffering from injuries11,15,16
And now imagine being able do that, and more, in only 10 minutes of exercise a day?
Sound too good to be true? Well it's not, and we'll prove it!
FREE EBOOK
* all fields are compulsory
[activedemand_form id='11308′]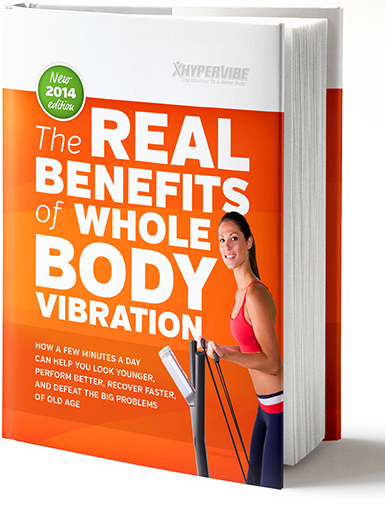 Download this FREE guide now, and you»ll be privy to the latest facts, scientific research, real user testimonials and all the proven benefits that come from using a Whole Body Vibration Machine.
Over 60 pages of body changing
information TOTALLY FREE.
Inside this FREE book, you'll discover:
The Japanese study that demonstrated how 40 seniors over the age of 50 dramatically improved their balance, walking speed and agility in just 4 minutes a day, once a week with a whole body vibration machine15
How professional athletes are getting high intensity results, with low intensity effort and achieving 5 months worth of power-training stimulus in only 10 minutes a day while reducing their warm-up and recovery16,17,18
The truth behind the research that proved whole body vibration's 10 minutes-a-day training exercise has the lowest dropout rate and the highest adherence for anyone looking to reduce their waist size3
The answers for women who want a firmer figure, look years younger and strengthen their pelvic floor 7,8,9,10
How you can defeat injuries or physical limitations with whole body vibration exercise1,2,3,5,11,12
Look, I could write a hundred more bullet points about this brand new book but here»s the deal: You MUST see this.

This book will, without question, reveal the most effective methods for looking younger, performing better, recovering faster, and defeating the big problems of old age.
The facts, science and proof that you'll discover inside can easily take you from "where you are now" to "where you want to be" as it has done for hundreds of men and women worldwide.
So put your name and email address in the form above and we'll give it to you absolutely free!
What are you waiting for? It's totally free and people are raving about it. Fill in the form above and see what you're missing
REFERENCES
Zhang L, 'Effect of whole-body vibration exercise on mobility,balance ability and general health status in frail elderly patients: a pilot randomized controlled trial.' Clin Rehabil. 2013 Jul 17
Matute-Llorente A. Effect of whole-body vibration therapy on health-related physical fitness in children and adolescents with disabilities: a systematic review. J Adolesc Health. 2014 Apr;54(4):385-96.
Sealey R, 'Effects of Exercise Interventions on Physical Condition and Health of Vietnam Veterans.' International Journal of Therapy and Rehabilitation, August 2011, Vol 18, No. 8
Delecluse C, Roelants M, Verschueren S. 2003. Strength increase after whole-body vibration compared with resistance training, Med Sci Sports Exerc, 35(6), 1033-41.
Annino G. Effect of whole body vibration training on lower limb performance in selected high-level ballet students. J Strength Cond Res. 2007 Nov;21(4):1072-6.
Bosco C. Adaptive responses of human skeletal muscle to vibration exposure. Clin Physiol. 1999 Mar;19(2):183-7.
University of Mary Washington – Wellness Resource Centre – http://students.umw.edu/wellness/wellness-resource-center/benefits-of-exercise-2/
Stewart JM. Plantar vibration improves leg fluid flow in perimenopausal women. Am J Physiol Regul Integr Comp Physiol. 2005 Mar;288(3):R623-9
Lauper M. Pelvic floor stimulation: what are the good vibrations? Neurourol Urodyn. 2009;28(5):405-10
Vissers D. Effect of long-term whole body vibration training on visceral adipose tissue: a preliminary report. Obes Facts. 2010;3(2):93-100
Rittweger J. Treatment of chronic lower back pain with lumbar extension and whole-body vibration exercise: a randomized controlled trial. Spine (Phila Pa 1976). 2002 Sep 1;27(17): 1829-34
Park YG. Therapeutic Effect of Whole Body Vibration on Chronic Knee Osteoarthritis. Ann Rehabil Med. 2013 Aug;37(4):505-15.
Sealy R. Acute Exercise In Vietnam Veterans Is Associated With Positive Subjective Experiences. Int J Exerc Sci 3(1): 36-42, 2010.
Sanudo. Whole body vibration training improves leg blood flow and adiposity in patients with type 2 diabetes mellitus -. Eur J Appl Physiol. 2013 Sep;113(9):2245-52.
Kawanabe K. Effect of whole-body vibration exercise and muscle strengthening, balance, and walking exercises on walking ability in the elderly. Keio J Med. 2007 Mar;56(1):28-33.
Bosco C. Hormonal responses to whole-body vibration in men. Eur J Appl Physiol. 2000 Apr; 81(6):449-54
Aminian-Far A. Whole-body vibration and the prevention and treatment of delayed-onset muscle soreness. J Athl Train. 2011 Jan-Feb;46(1):43-9
Cochrane, D. The Effect of Acute Lower-Body Vibration Exercise on the Rate of Muscle Temperature Increase. European Journal of Applied Physiology (2008):103, 441-448