NEXT
How To Choose?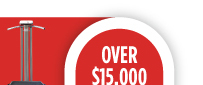 Shape, Size, Weight, Colour, Touch-Screen, Instructional DVD, Celebrity Endorsement?
Along with Price, there are a variety of features you will be presented with when shopping for a Whole Body Vibration machine.
If your reason for buying a vibration machine is to improve the strength and shape of your body with minimal time and effort there are two features that should be scrutinized more than all the others; even before considering what the machine costs.
Those two features however are also the most difficult and expensive to get right. Of the 41 machines in this guide that underwent stringent engineering tests, there were only 9 that could complete BOTH of the following research-backed tests:
Capable of vibrating in a

Frequency

range of 20 to 45Hz.
Capable of generating at least 10G of

Acceleration

.
Take Control
It can be tempting to make your decision based on appearance or price, particularly if offered a discount that seems too good to miss. But really, if the machine can't do what you need it to do, does it really matter how big a discount you get? Consider the following illustration.
Imagine you were a pilot shopping to buy an airplane. You find 10 airplanes for sale. They all look similar and have product brochures with pictures of pilots just like you happily flying through the clouds.
Upon testing however you discover that while all 10 of them can move around on the runway, only two of them can actually get off the ground and fly. You question a salesman from 'Power-Plane' about why their planes cannot fly and are told "flying is dangerous, what you need is a plane that stays on the ground!" and are then offered a large discount to buy one.
We all know airplanes are supposed to fly. Whole Body Vibration machines were also invented for a specific purpose – to activate reflex muscle contractions and add enough load to the body that it stimulates growth. Still, many vibration companies are in effect doing their best to sell you a vibration machine that cannot fly!
Asking some Whole Body Vibration sales people "what Frequency range and how much Acceleration is it capable of?" might result in some blank looks or uncomfortable attempts to change the topic but at least you now know the proper way to start choosing between machines.
Right Frequency, Right G-Force
Here are the 9 Whole Body Vibration machines that were capable of completing both tests described above.The height of each column indicates the maximum Acceleration each machine scored in testing. The colour indicates the price range of the machine at the time of purchase.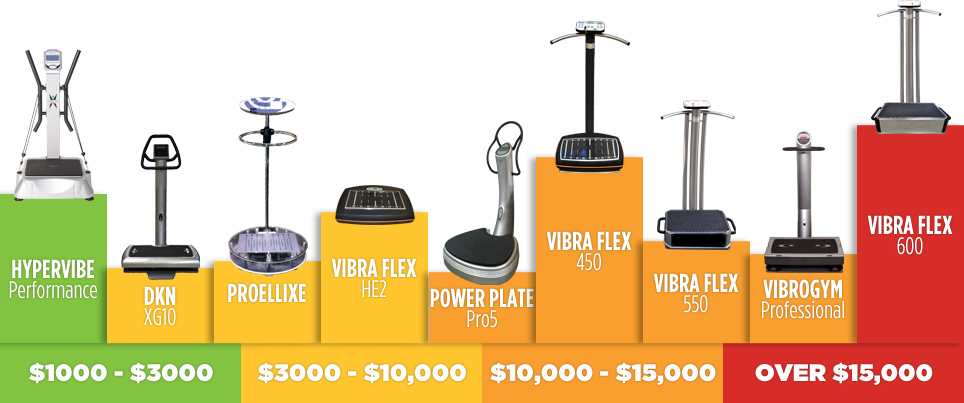 Right Price
Of the 9 machines the Hypervibe Performance machine was the only one below $3000 and despite costing less than all the others had some of the highest test scores. Contact Hypervibe now to see how easy it is to own one TODAY! Click Here Now.