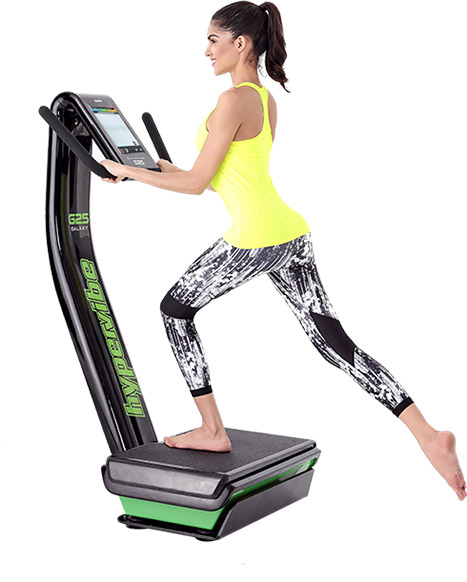 Whole Body Vibration
Whole Body Vibration is a unique way of increasing your exposure to gravity.2 The upward movement of the platform causes the body to accelerate upwards. Imagine the example of standing in an elevator. If the elevator was to move downwards at high speed it would make you feel light, almost like floating.
If however it suddenly slowed to a stop and immediately moved upwards with rapidly increasing speed it would feel like your body just became a lot heavier and you would have to push down with your legs to keep yourself upright.
Whole Body Vibration creates an effect similar to the elevator moving upwards, it's as if your body just became heavier. You feel this acceleration as a force on your body, a force called G-force which is adding to the force of gravity pulling you toward the Earth.
Where conventional exercise has failed, researchers at the European Space Agency have successfully used Whole Body Vibration to completely prevent the degeneration in bone and muscle during prolonged weightlessness by using Whole Body Vibration.
At this point it becomes important to distinguish between Vibration Training machines and Vibration Massage machines. In the European Space Agency experiments the most successful outcomes came from using a G-force of 15G 7. Reducing that to 10G resulted in partial success. Reducing to 5G or less reduced the effectiveness by 70-100% ie. if muscle, bone and body conditioning are your goals, using low G-force is ineffective for all but the most frail and deconditioned individuals.
This becomes important information to be aware of before buying a vibration machine as most vibration machines are not capable of producing high G-forces and are really only suitable as massage machines. This includes all machines for under $1000 and most machines from $2000 – $3000
G-force is the most important factor when it comes to stimulating the body to improve with Whole Body Vibration. If you want maximum results with minimum time and effort your aim should be to use the highest G-forces you feel comfortable with.
Read more and discuss value for money in How Much Should You Pay For A Vibration Machine?