NEXT
Q. Why were the tests expanded from 17 machines to 41?
ANSWER: After releasing the test results from Alstom MSC, we started to hear counter arguments from competitors whose results (according to the engineering tests) were less than flattering. Below we've listed the most common counter arguments to our 2010 report and have addressed each one of them. We believe the below responses and subsequent 2011 and 2012 engineers test results put these arguments to rest.
Q. Were the tests biased towards Hypervibe's product?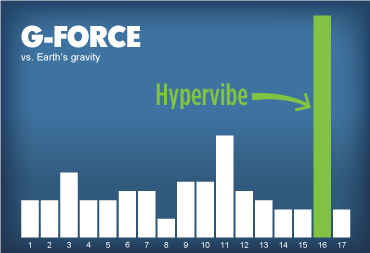 ANSWER: No – they were not.
Take a look at this first graph, it sure does look biased. That was the results from the first round of engineering tests performed in 2010. It was not our intention to find as many low stimulation machines as possible just to make Hypervibe look good by comparison. In Australia in 2010, those 17 machines were simply all that we could obtain to submit for testing.
We certainly did not shy away from including more expensive machines that you would expect to out-perform ours. We included all the big brand names that were available at the time and let the data speak for itself.
In order to show that we have no problem comparing HyperVibe to more powerful machines, the latest round of engineering tests (conducted in 2011 and 2012) includes machines which cost upwards of $10,000 some of which provide more stimulation than the HyperVibe. eg: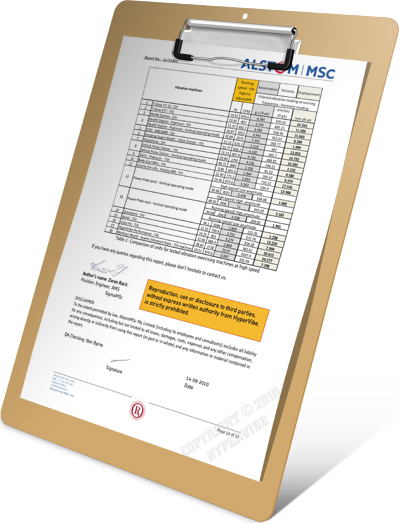 Q. Did Hypervibe somehow fake the results?
ANSWER: No.
Firstly, the independent engineering companies who provided the data are well respected, well established, and in some cases, multi-national award winning companies. Each engineering company has signed off on the test data being accurate which was recorded on state of the art vibration analysis equipment valued at tens of thousands of dollars.
Secondly we are not the first to publish evidence of vibration machines performing below expectation. There are many scientific researchers around the world who test the vibration machines they use in their experiments. Some of these even occurred before Hypervibe came into existence.
For example, in a 2009 study* published in the Journal of Medical Engineering and Physics, scientists measured a maximum Acceleration reading of 11G's from Power Plate's commercial model which is exactly the same as what was found in the Alstom MSC results that we published. (*see Pel et al. – Platform accelerations of three different whole-body vibration devices and the transmission of vertical vibrations to the lower limbs)
Finally, companies who think the test results were "fabricated" tend to go very quiet when it is suggested that they send their machines off for independent testing to disprove the Engineers test results in this Buyers Guide.
Q. Are the high G-force levels possible with machines such as Hypervibe's dangerous?
ANSWER: No.
There are a couple of points worth noting about this myth.
Firstly, all of the wonderful benefits you have heard that were proven by research, have almost always come from HIGH G-FORCE machines.
Of the 41 machines included in the newly released test results, the only machines to have research backed benefits all had one thing in common, they could all produce more than 10G's. To the contrary, there are very few low G-force machines that have shown evidence of any benefits.
Next time you hear this line from a low G-force machine supplier, ask to see research backing their health claims and they'll likely provide you with research (from a high G-force machine).
Secondly, a powerful machine like the HyperVibe has a wide range of stimulation outputs. Unlike some machines it isn't limited to only a HIGH or LOW setting but is also capable of everything in between. Just because the HyperVibe has the ability to produce significant levels of G-force, does not mean everyone who uses a HyperVibe must use it at the highest G-force levels. The amount of G-force a user experiences can be controlled quite easily, and can be set to a level that is appropriate for that particular user, even if that's the lowest level to begin with.
What is important is that there is always room to increase the level of stimulation as you progress in your training and abilities. We think you'll agree that this is better than being limited to the stimulation of a massage!
The attempt by some sales people to scare consumers away from any vibration machine that can produce more Acceleration than their machine is really just an example of the airplane illustration given on the SUMMARY page of this website. If you haven't read it already, click here to see it.
Q. Does Hypervibe only have
paid

research to back its claims?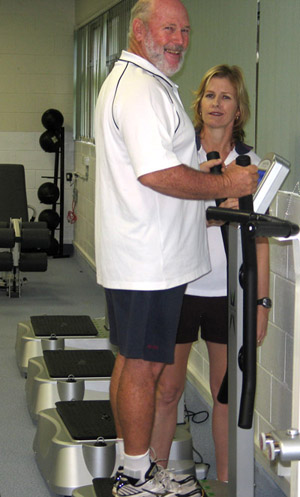 ANSWER: No.
James Cook University in Australia have been using HyperVibe machines since 2009 and have published a number of articles based on the effects of vibration training using HyperVibe.
HyperVibe merely supplied the equipment to James Cook University, and provided no funding. The most recent study was published last year in the International Journal of Therapy and Rehabilitation. The research involved Vietnam Veterans with an average age of 62 years.
After 12 weeks of using Hypervibe machines for twenty minutes, three times a week the elderly participants displayed:
Increased strength
Decreased waist girth
Decreased hip girth
Decreased blood pressure
(See Sealy et al. – Effects of exercise interventions on physical condition and health of Vietnam Veterans)