Does getting your body into shape take far too long?
With the
RIGHT

Whole Body Vibration machine and the

RIGHT

vibration settings you can turn things around

FAST.
Imagine being able to…
Feel ENERGETIC
Look SLIMMER
Move with EASE
and CONFIDENCE
Get STRONGER
In
RECORD

time, with

MINIMAL

effort from your own

HOME

,
doing something that feels

PLEASURABLE

!
Get Your
Free

Buyers Guide:
World's Largest Comparison
of Vibration Machines
Presented by Adro Sarnelli
[activedemand_form id='22619′]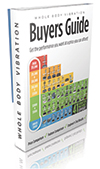 See what people are saying about Hypervibe…
"I'm 68 and trying to stay in shape. I do weights, but I still felt my strength waning with age. Not any more. Whether your Hypervibe is toning, or muscle building, or maybe just cleaning my lymph system I can't say definitively but omg my strength is returning ' what a GREAT feeling. Your machine is a winner."
Sincerely, John N.

Just some of the things you'll learn…
Which two features of a vibration machine play a key role in creating a slimmer stronger body in the shortest possible time.
FACT: Only the top 9 out of 41 machines had BOTH
The confidence of knowing which machines are backed by scientific research and the unique ability they all had in common is why astronauts are now using machines with this ability!
FACT: 32 machines FAILED to demonstrate this ability when pushed to their limits by the engineers!
Which machine settings were most commonly used in over 250 research experiments to achieve maximum muscle benefits
The surprising machine which out-performed 38 of the other 40 machines, yet cost a lot LESS than the other top 8 performers