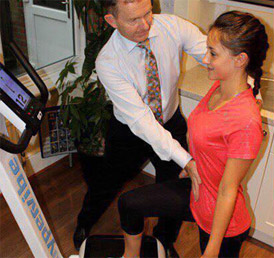 Discover how Therapists use Hypervibe
Therapists who work with patients for rehabilitation and prevention of injury have used many methods over the last century with great success. There are constantly new best practices, innovations and technologies that are contributing to greater levels of health and wellbeing. One of the more recent innovations has been with Whole Body Vibration or Gravity Resistance Training.
As more research has been completed showing significant benefits with people of all types, therapy clinics around the world have been integrating Whole Body Vibration into their practices with great success. This page will provide you with important education on the many benefits of Whole Body Vibration for your therapy clinic, some of the important things to look for when choosing a Whole Body Vibration machine and insights from top therapists who are using Hypervibe with great success.