Blog Spotlight Interview: Micki Havard
27th May 2019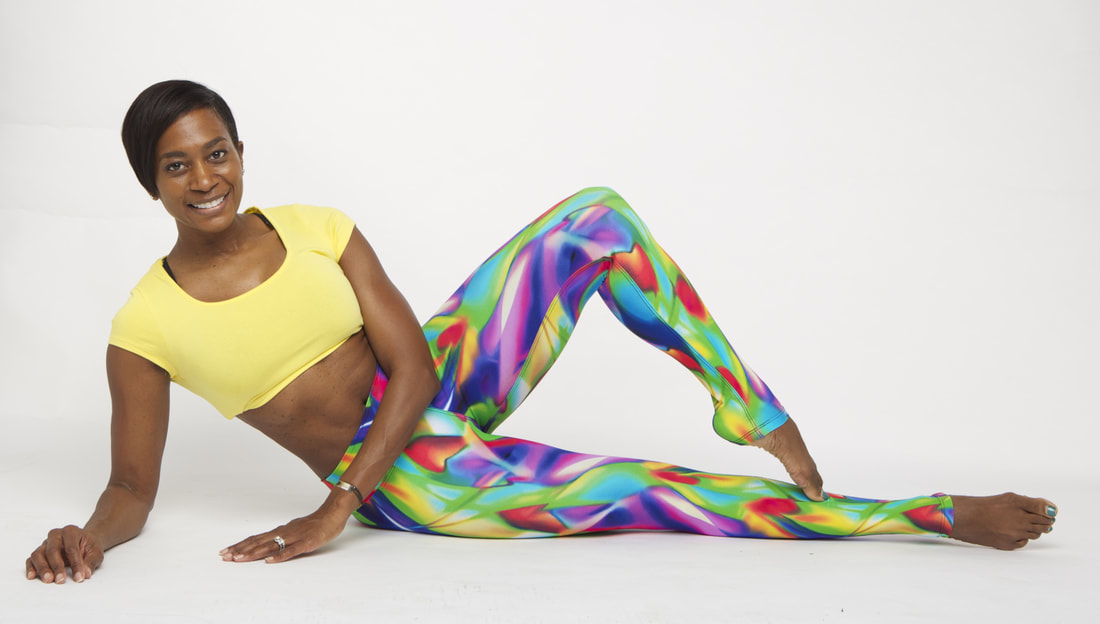 Introduction:
Micki Havard is a Pilates instructor based in Atlanta, Georgia. Her love of fitness and wellness has blossomed through her personal experiences as a competitive runner and her background as a personal trainer. Micki offers individual Pilates sessions and small group classes out of her home studio, training everyone from moms to athletes. She has recently started integrating the Hypervibe into her trainings – and her clients are loving it! For more information about her offerings, go to mickiphit.com and follow her on Instagram – MickiPhit Online Pilates @ mickiphit.
Q: Good morning, Micki. It's a pleasure to speak with you today. Tell me a little bit about your background in the fitness industry – how long have you been an instructor?

A: I have been an instructor for going on 19 years. I became very interested in Pilates before my wedding (it was the craze in the 90s) and I fell in love with it. I got certified and thought that it was something that I could do on the side. I was a buyer at the time – my job wasn't flexible, I was traveling a lot. I eventually left that field and began teaching Pilates as my primary job – that was a big shift.

Q: Where do you offer training? Do you work out of a studio?

A: I retired from studio training about 2 years ago. I was training at two studios and had also taught a senior citizen's class at the Y. I taught that class for about 10 years – that was the absolute favorite class that I taught. I have a small home studio and I mostly do 1 on 1 classes and I do a few Skype lessons for clients who have moved away. I also have an online studio which can be accessed with a $9/month membership. Members can actually pay for the year and get a discount, but most people choose to do the month to month membership. I offer various services, including a 14 day fitness challenge several times a year. The reason that I did the online studio was for my former students – I definitely didn't expect for it to have a large membership but I now have an international following. It's been really surprising!

Q: Do you work primarily with a certain client base or specialize in any specific type of training?

A: My client base is split down the middle. About half of my clients are moms that live in the area; the other half are athletes. I developed this by doing a pilot program with my friend who is a trainer and a former NFL player. I worked with athletes earlier in my career as I was a personal trainer, so it took me back to that time. My son plays football and soccer – he is my main client. I focus on a lot of dynamic balance training and mobility meets stability – learning how to stabilize while in movement, especially with my athletes. As far as my senior citizen clients, I incorporated a lot of functional training – that's very important.

Q: Did you have any early life experiences that cultivated your passion for fitness and wellness?

A: I have been a runner since I was 8 years old. My brother was a cross country runner and I wanted to do everything that my big brother did, so I followed in his footsteps. My parents ran marathons when I was growing up – they were ahead of their time. I did long distance running up until I was about 12 or 13, and I ran competitively about midway into my college career. I retired from running about 4 years ago when I turned 45.

Q: What is the greatest reward that you've experienced as a result of working in your field?

A: I would have to say that the greatest reward is seeing people actually progressing and being satisfied with the results. A lot of people who consider Pilates don't understand that it is a workout in and of itself. Getting people to really understand how you can improve so many different aspects of your life – whether it's fitness, balance, overall strength or athletics – that's what I like to do. Some people think of Pilates as a stretching session or an "off-day" session – I love to see that people really appreciate it and realize how much it can help them.

Q: What makes your offerings unique? What do you feel is different about your practices?

A: I think it's the way that I approach it. When I started taking classes, I felt that it was "elitist". Pilates was promoted as "not for everyone" – there was a certain level of snobbery that was involved and people were intimidated by it. My aim is to reach as many people as I can. I try to provide simplified instructions. I like to create a very relaxed, non-intimidating environment – I try to offer something that is welcoming and show the movements in a way that people feel that they can accomplish something.

Q: Do you use equipment such as the reformer in your studio?

A: I'm a Pilates mat instructor, however I use a reformer for my own practice. I use a lot of props in my practice that simulate reformer work, like the magic circle, stability balls, and resistance bands. The bands are probably my favorite prop. I use a yoga block a lot in my practice as well light hand weights – 2 to 5 lbs. I did a private training with a group of young lacrosse players – guys in their 20s. I used very small weights and they were asking for heavier ones, not realizing how challenging the workout would be. Within 5 minutes in they were all quivering!

Q: It's been fun viewing your posts on Instagram. Do you have any upcoming offerings that you want to share?

A: During the summer, I am not as busy as a lot of my clients travel. I will be ramping up training again in the fall. I will be doing a 14-day fitness challenge that is coming up in mid-August. Anyone who wants to join can go to mickiphit.com – the class is available with membership. I also just started posting a food/recipe blog. I have introduced some of the foods that I like to eat and I teach people how to navigate through a regular day. All of these fad diets (gluten-free, Keto, Paleo) – I think that they can be helpful, but I'm into how healthy eating can be sustained. Some of my friends have also contributed recipes. This is the newest part of my website that people can access for free.

Q: Whole body vibration as an exercise modality is a relatively new concept to most people. Do you remember when you first became aware of it?

A: I first became aware of it probably about 5 years ago. There's a really popular Instagram instructor who I had been following who was using a vibration platform in her routine. I had never heard of it before so I Googled it. I hurt my back a few years ago and I went to my physical therapist – he had a WBV unit in his office. I had herniated my disc and he used WBV as a part of my therapy. I had thought it was just something that could be used to increase the intensity of a workout – I didn't realize that it can be used therapeutically. At that time, I was having really severe spasms and nerve pain. He put me on the vibration plate and it was incredible. I didn't believe that it was going to work, but I felt so much relief within 5 minutes. I literally hadn't been able to function – I had been taking pain pills and muscle relaxants. The amount of relief that I achieved while using it was unbelievable.

Q: How did you come across Hypervibe and what intrigued you about it?

A: I saw one of my fitness friends using Hypervibe. I wanted to learn more about it and so I reached out to Brie and she got back to me to let me know that Hypervibe would be offering training courses. I was in!

Q: Can you share your experience in regards to attending the Hypervibe Foundation Training class? Was this experience worthwhile and would you recommend it to other trainers?

A: Before training, I didn't know what to expect. I didn't know how versatile the Hypervibe was. I had never thought about building a class around it as I didn't realize how many options there were for using it. I was so pleased with the way that Rockell showed us all of the different uses – I had not thought that far outside the box. That's why it's always so important to be around other individuals who have different perspectives when it comes to training. Sometimes, you get stuck in a rut and it's hard to come up with new routines. The Hypervibe has allowed me to offer something new to my clients.

Q: What is something that you learned about whole body vibration that didn't know before you attended the training?

A: I learned about the various applications of WBV, the history and the science. I wanted to learn as much as I could so that I could have enough information to really educate my clients.

Q: How long have you been integrating Hypervibe into your business?

A: I had gotten a Hypervibe G17 about 3 months before I attended training. At that time, I was using it for myself, my son and my brother, who had had back surgery – he's been using it about 3 times a week since I got it. For my son, we do a lot of balance work and unilateral work. Once he started using it, he saw how it challenged his balance. For the past month, I've been using it with my clients. Prior to the training, I hadn't formulated any kind of class. Since then, I feel much more comfortable using the Hypervibe with my clients.

Q: What personal changes have you experienced as a result of using Hypervibe and how has it impacted your health?

A: It's definitely improved my balance. I also use it at least three times a week just for back relaxation and as a part of my warm up routine. Another way I love to use it is when I am doing body weight work without weights – that's a real challenge.

Q: What are your favorite exercises to do on the Hypervibe?

A: I would say squats and unilateral leg work. These are incredibly challenging. The lower body work is just amazing.

Q: What are the main reasons that you would recommend Hypervibe?

A: I would recommend it for the efficiency alone – that's the biggest thing for me. I am really into efficient workouts. I go to the gym – but I don't like to be anywhere for a long time. It really reduces the amount of time that you need to workout – people love that.

Q: Can you share a little bit more about how Hypervibe has helped your clients? Have you had any clients who were skeptical about whole body vibration before using Hypervibe and now realize the benefits?

A: I'll use my husband as an example. He goes to the gym – he lifts weights – that's what he does. He was pretty skeptical about what the Hypervibe would do for him. When I did a total body weight 15 minute workout with him – he was pouring sweat – he doesn't even sweat at the gym because he's plateaued. Most of the clients who have now used the Hypervibe are just surprised at how the machine makes them feel.

Q: What are some creative ways that you have found to include Hypervibe in your training?

A: I integrate most of my Pilates movements on the Hypervibe – for example, planks and leg circles – it just amps up the intensity. With my clients, I start at a super low intensity – I want them to get used to the sensation. Then we build up gradually from there.

Q: What have your clients expressed are their favorite things about Hypervibe?

A: I would say that the most typical comment is that they want to use it again because they are getting 'more'. They don't know exactly how to express what 'more' is – they just feel that they are getting more of a workout. A lot of my clients have been working with me for several years. Using the Hypervibe has allowed them to experience a more varied and intense workout.
Thank you for taking the time to share your experiences with us, Micki. We will continue to follow your journey and are proud to have you as a Hypervibe Ambassador. #teamhypervibe