The Best Of 11 Full Body Workout Machines For Home
24th August 2022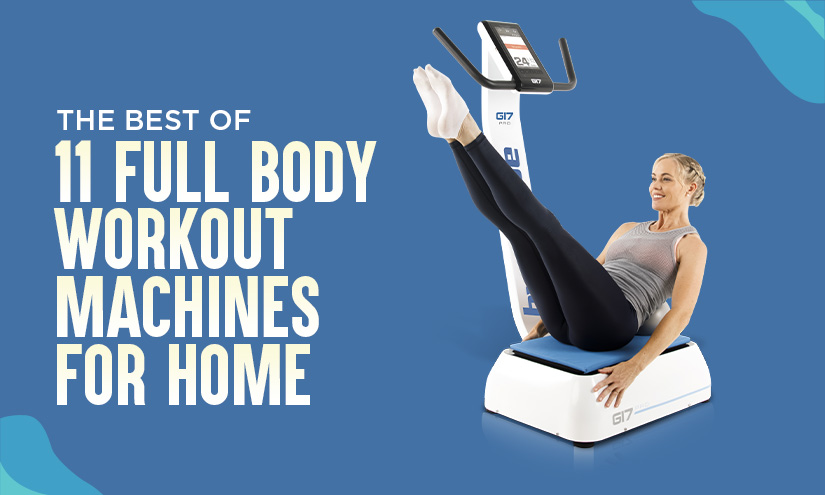 You may desire to exercise but believe it's more suitable to do so at home. Keeping a home gym running may be expensive due to the huge variety of training equipment needed.
To keep all the equipment, you need lots of space. Using a complete body workout machine at home is the best way to exercise your whole body. One piece of exercise equipment for the full body.
A piece of equipment that lets you work out at home. Here are the 11 best full body workout machines for home.
Choose The Best Full Body Workout Machine For Home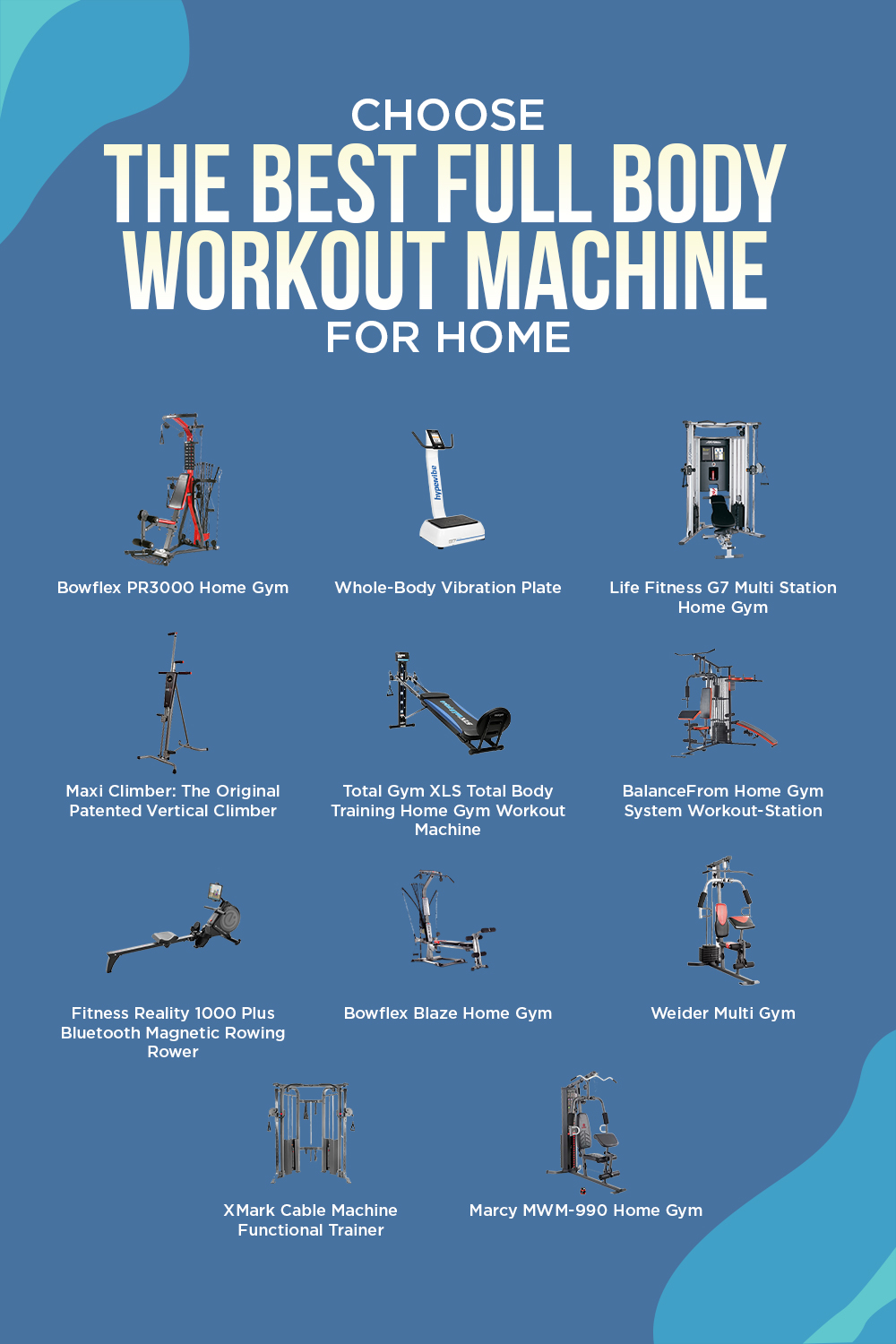 Bowflex PR3000 Home Gym

The Bowflex PR3000 home gym is a full body workout machine for home that offers more than 50 strength exercises. This multi-purpose machine comes with 210 pounds of Power Rod resistance and can be adjusted to 310 pounds.

There features a vertical bench press, triple-function hand grips for the lat pull-down, and a no-change cable pulley system.

The PR3000 uses Bowflex's Power Rods, which feel as good as or better than free weights without inertia or joint pain. Attach one Power Rod or all of them to the cable pulley system for 5 to 210 pounds of resistance.

They're created from a high-tech composite, tested four times, and enclosed to prevent harm during production. Repetitive bending won't break Power Rods.

Whole-Body Vibration Plate

There is some evidence that whole-body vibration can aid in weight loss and muscle strength improvement when combined with a reduction in caloric intake.

Whole-body vibration could have applications outside of the realm of physical training. Whole-body vibration has been shown to alleviate back pain, enhance strength and balance in the elderly, and slow bone loss when practiced appropriately and under medical supervision.

However, if you want to slim down and get in better shape, you need to eat well and exercise regularly. While WBV may be a good option for some, it's important to supplement it with other forms of exercise, such as cardio and weight lifting.

Also, if you're pregnant or have any other health issues, it's important to get your doctor's approval before utilizing whole-body vibration, as it can be dangerous in certain circumstances.

Life Fitness G7 Multi Station Home Gym

The Life Fitness G7 Multi-Station is a full body workout machine for home, similar to commercial gym equipment. It's businesslike but home-friendly. It includes two weight stacks so you can exercise arms and legs separately.

You can also undertake a dual-sided workout. Before buying, make sure a bench is included. The bench expands exercises. This machine can be used even without a bench.

The Life Fitness Home Gym has chin and pull-up bars for ab and upper body strength. You can strengthen your muscles using this home gym's equipment. This machine has 20 pulley positions for varying intensities.

The Life Fitness G7 Multi Station Home Gym is built to last. Free setup and a fitness guide with 60 exercises are included.

Maxi Climber: The Original Patented Vertical Climber

Maxi Climber is as simple a full body workout machine for home as it seems. Don't be deceived by apparent simplicity. This machine works your upper body, abs, and legs.

This device works for all fitness levels. This machine combines cardio and weights to burn fat and tone muscle. Low-impact design protects knees and ankles. Maxi Climber speeds up work. No more machine-hopping or multitasking.

Using this equipment will fulfill your goals in one simple routine. With the Maxi Climber's fitness app, you can track your progress. This machine rolls up if you're short on space. Portable and versatile, anyone can use the Maxi Climber. You've found a simple full body workout machine for home.

Total Gym XLS Total Body Training Home Gym Workout Machine

The Total Gym Workout Machine is versatile. This machine has 80 exercises. With cardio, stretching, and weight training.

This machine has an adjustable glide board. This allows you to increase resistance by utilizing your own body weight. No assembly is required.

This machine folds up for easy storage if you're short on space. The Total Gym XLS has additions, making it adaptable. It has a crunch, wings, and ribbed squat stand.

You may attach a cycle accessory to this machine to work your cardio. This is a compact, useful machine for bedroom workouts. It comes with fitness accessories like an activity chart and diet planning guide.

BalanceFrom Home Gym System Workout-Station

Nylon-coated aircraft cables and heavy-duty steel make up the rest of this full body workout machine for home construction. This unit has 15 pulleys, all of which work together to ensure a fluid motion. One machine can be used to work out your arms, abdominals, back, and legs.

The 145-pound stack weights included with this home gym machine provide you a maximum resistance of 380 pounds throughout your workouts. Wide grip foam handles make the lat pulldown attachment comfortable to use.

Together with a four-roll leg curl machine. The late bars can be detached and switched out for a variety of alternative options. Use this full body workout machine for home to strengthen and tone your entire body with minimal effort.

Fitness Reality 1000 Plus Bluetooth Magnetic Rowing Rower

Please excuse the rowing machine. Rowing is a great cardiovascular activity for both novice and seasoned gym-goers.

The Fitness Reality Rower works your lower body, abs, and upper body. The front foot pedals allow for front and side lifts, extensions, and curls on this machine.

Rowing exercises legs and abs. The Fitness Reality rowing machine is quiet. The rowing machine's nylon belt makes it practically silent. Bluetooth lets you monitor workout time and metrics from any mobile device.

The treadmill's dashboard indicates speed, distance, time, calories burned, and strokes per minute. Rowing machines are great as full body workout machines for home. The fitness reality is ultra-quiet and has 14 difficulty levels.

Bowflex Blaze Home Gym

Bowflex Blaze Home Gym has 60 movements. The moveable seat enables leg presses and aerobic rowing. Lat pulldown bar and squat rack included. This equipment mixes weightlifting and cardio.

Bowflex has a 210-pound resistance rod. Upgrade to 310 or 410 pounds. Bowflex Blaze Home Gym's cable and pulley adjustments allow for versatile bodywork.

The Bowflex Blaze folds and features wheels for mobility and storage. You may not need any other tools but this one.

Weider Multi Gym

When compared to the other items on this list, the Weider Multi Gym is extremely bulky. But the Weider machine gives you a lot of bang for your buck.

The leg developing pads can withstand a maximum of 300 pounds of resistance thanks to the pulley system and the 214 pounds in the weight stack. Despite its bulky appearance, this has extremely comfortable pads that make exercising a breeze.

The use of this item will strengthen your upper body, arms, and legs. In all likelihood, the gadget can fulfill most of your needs. Someone who doesn't want to spend thousands of dollars on a full body workout machine for home but still needs top-notch quality and performance will benefit greatly from this one.

XMark Cable Machine Functional Trainer

The XMark Cable Machine Functional Trainer has no exercise limit. Weight-adjustable bench and 200-pound weight stacks are included.

Each D-handle pullet has 19 settings. Pull-up bar, tricep ropes, short bar, long bar, hand straps, leg strap, and short bar. You can target a muscle group, one side of the body, or the whole body. This gear is great for the whole family because it's adjustable.

This trainer is 11 gauge steel. This item is made of robust steel that won't crack under strain. This item's padding is water and wear-resistant. We recommended moving set-up equipment, however, wheels were included.

Marcy MWM-990 Home Gym

The MWM-990, modeled after the popular smith machine, is a high-quality full body workout machine for home. You can do a lot with this machine, and it will last a long time. With its compact design, this machine won't take up much room on your shop floor.

You may get more out of your workouts by incorporating independent motion accessories that serve dual purposes. You can increase the variety of workouts you can do with the cable system by purchasing accessories like ankle cuffs, bars, and handles.
Sources:
https://nanbf.org/the-9-best-full-body-workout-machines-for-home/
https://www.mayoclinic.org/healthy-lifestyle/fitness/expert-answers/whole-body-vibration/faq-20057958
https://gymperson.com/best-home-gym-all-in-one-workout-machine/
https://www.jaquishbiomedical.com/best-full-body-workout-machines/