Can Vibration Machine Exercises Cure Fibromyalgia Pain?
10th November 2015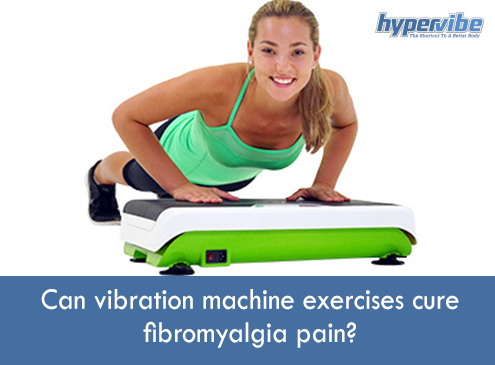 More present in women than in men and affects about 5% of females, fibromyalgia is the third most common rheumatic disorder worldwide, after low back pain and arthritis.
This condition is characterized by widespread musculoskeletal pain and tenderness and manifests through permanent fatigue and sleep problems, depression, and anxiety. It's a condition with no known cure that affects not only one's physical but also one emotional state and is often accompanied by other health problems such as irritable bowel syndrome, migraines, or obesity.
While it's not fully understood what causes fibromyalgia, it is believed that infections, physical trauma, and prolonged exposure to stress may favor the occurrence of the specific symptoms. In most patients through the manifestations start with no apparent reasons and accumulate over time, being difficult to say when they began and what triggered the symptoms.
How can whole body vibration help?
Fibromyalgia can be managed and the symptoms can be improved through pharmacological and non-pharmacological strategies, but there is no permanent cure for this ailment. One can temporarily decrease the pain, reduce fatigue and keep symptoms like anxiety and depression under control through relaxation, stress-reduction therapies, or exercise, but none of these solutions offers permanent relief.
Of all the available treatments, physical therapy has shown the strongest evidence of efficacy, so scientists wanted to know whether whole body vibration can replace conventional exercises and provide the same benefits as regular physical therapy in patients with fibromyalgia.
Compared to conventional exercises, WBV workouts have a couple of advantages such as the reduced workout time, the adjustable exercise intensity, the possibility to target various body areas at the same time, and the decreased level of effort required for performing the various exercises.
These workouts are safe in people of all ages and provide significant health and fitness benefits, from strengthening the bones and muscles and improving coordination and balance, to enhancing flexibility, reducing pain and stress, decreasing inflammation, and improving circulation and hormone balance.
Also, vibration exercises have shown better adherence rates when compared to conventional strength training, so researchers investigated the effectiveness of these workouts in fibro sufferers, and here's what they found.
Spanish scientists at the Department of Physical Activity and Sport, University of Seville, treated 30 postmenopausal women who suffered from fibromyalgia with WBV therapy, for 6 weeks. The participants were divided into two groups, one performing regular exercises twice a week and WBV exercise three times a week, while the other group (control) performed only conventional training.
6 weeks later, both groups showed significant improvements in strength, balance, pain, stability, and overall health status. However, in the vibration group, the effects were more pronounced, so the researchers concluded that patients with fibromyalgia may gain additional benefits from WBV therapy.
Researchers from the Purdue University Indianapolis also investigated the use of WBV in fibromyalgia sufferers and found that this form of therapy can reduce pain and improve the quality of life, after 24 weeks of treatment. 24 women with fibromyalgia took part in this study, most of them with a sedentary lifestyle and excess weight.
Spanish scientists from the University of Barcelona found that exercising on a vibration machine can reduce pain and fatigue in fibro sufferers, improving the physical function of these patients and contributing to a better quality of life.
Finally, scientists from the University of Extremadura in Caceres showed that whole body vibration exercises done for 12 weeks can contribute to better balance, coordination and muscle strength in patients with fibromyalgia.
Thus, if you suffer from this condition and are looking for a safe and efficient solution, whole body vibration may be a good choice. As suggested by these studies, exercises done on a vibration platform are of low impact, time-efficient, and provide similar benefits or even better results than conventional physical therapy.
Have something to add to this article? Comment below or join our Facebook community and share your thoughts with us!