Foot Massager for Neuropathy: Benefits of the Foot Massager
27th July 2022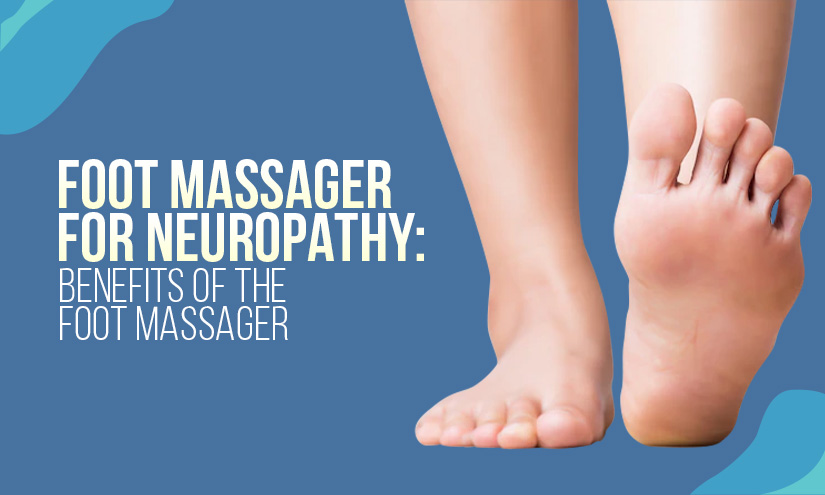 When you're dealing with diabetes, there will almost always be something on your mind, whether it's one of the disease's major complications or one of the condition's myriad minor annoyances.
Living with diabetes involves more than just keeping track of your blood glucose levels; there are also a number of physical side effects, including a variety of problems with your feet. The Centers for Disease Control and Prevention (CDC) believes that almost half of all diabetics have some form of nerve injury, most frequently occurring in and around their feet.
This condition, which is known as diabetic neuropathy, can cause a tingling, burning, or numbing sensation. Because of this, we are here to assist you in experiencing some comfort by recommending the finest foot massager for neuropathy.
Are foot massagers good for foot neuropathy?
The nerves that are giving you problems like tingling, numbness, and burning can be de-stressed through the use of a foot massager for neuropathy, which is not only relaxing for you and your feet but also for the nerves that are giving you problems.
When the muscles are massaged, they become more relaxed, which in turn reduces the amount of pressure that is placed on the nerves. In addition, endorphins, which are known to be released during massage, tend to serve as your body's natural painkillers, further reducing the discomfort associated with neuropathy.
The restoration of mobility that may have been lost as a result of your condition is another advantage that those who suffer from neuropathy can reap from receiving massage therapy from foot massager for neuropathy. This is because an increase in circulation helps to bring healing nutrients to your damaged nerves, which in turn relieves symptoms of the condition.
Why can't diabetics use foot massagers?
When a diabetic sufferer notices a decrease in blood flow to their feet, it's a good idea to try to improve their circulation. A foot massager for neuropathy not only improves circulation in the feet and calves, which increases oxygen levels in the blood and gives you an immediate boost of energy, but they can also provide some relief from foot pain by calming your muscles and relieving some tension.
Increasing the flow of blood to the body has a variety of advantages.
It's especially beneficial for diabetics because it can slow down the deterioration of their feet and speed up the healing process. Even for diabetics, proper usage of a foot massager can lead to an increase in mobility, as more blood is pumped down to the lower extremities.
Who should not use foot massagers?
If you have open sores on your feet or a significant injury to your foot or ankle, do not use a foot massager for neuropathy. If you have a sprained ankle or a strained muscle, you may be able to use the massager, but if you have a fractured bone, you should not.
Is it safe to keep using it for a long period of time?
In most foot massages for neuropathy, there is a timer that shuts off the massage when the timer reaches a predetermined level of intensity. You may be able to extend the length of your massage up to 30 minutes with some models, although the timer is usually set at 15 minutes.
A 30-minute massage is the maximum recommended time by most manufacturers. If you suffer from chronic pain or other conditions, you may be able to use the massager up to three times each day instead of only once.
Benefits of Foot Massage for Diabetics
Massage lowers diabetics' blood glucose as a prophylactic step. High blood sugar can damage the eyes, heart, circulatory system, kidneys, nerves, and joints, and throw a diabetic into a coma. Relaxing your body can lower blood sugar, preventing these situations.
Diabetes massage loosens muscles. Massage loosens and stretches connective tissue stiffened by high blood sugar. Relaxing muscles, tendons, and ligaments improves joint motion and flexibility, improving patients' quality of life.
A foot massager for neuropathy helps diabetics improve foot flexibility and movement. Massage helps enhance diabetics' foot blood flow.
What is the best foot massager for circulation?
Investing in one of the best foot massagers has several benefits, even if it looks like a luxury. In addition to being a terrific way to unwind after a long day, they can help heal hurting feet and boost circulation. As many of these gadgets are affordable, they might be a tiny treat.
The best foot spas aren't foot massagers, so don't confuse them.
Foot spas have many benefits, but filling, emptying, and cleaning them may be a pain. Using foot massagers is considerably easier.
To relieve painful, tired feet, all of them use rollers, vibrations, air compression, and electrical muscular stimulation (EMS).
Foot massagers have several forms. Some use heat to improve the sensation, and others may be controlled from a standing posture.
Best foot massagers for neuropathy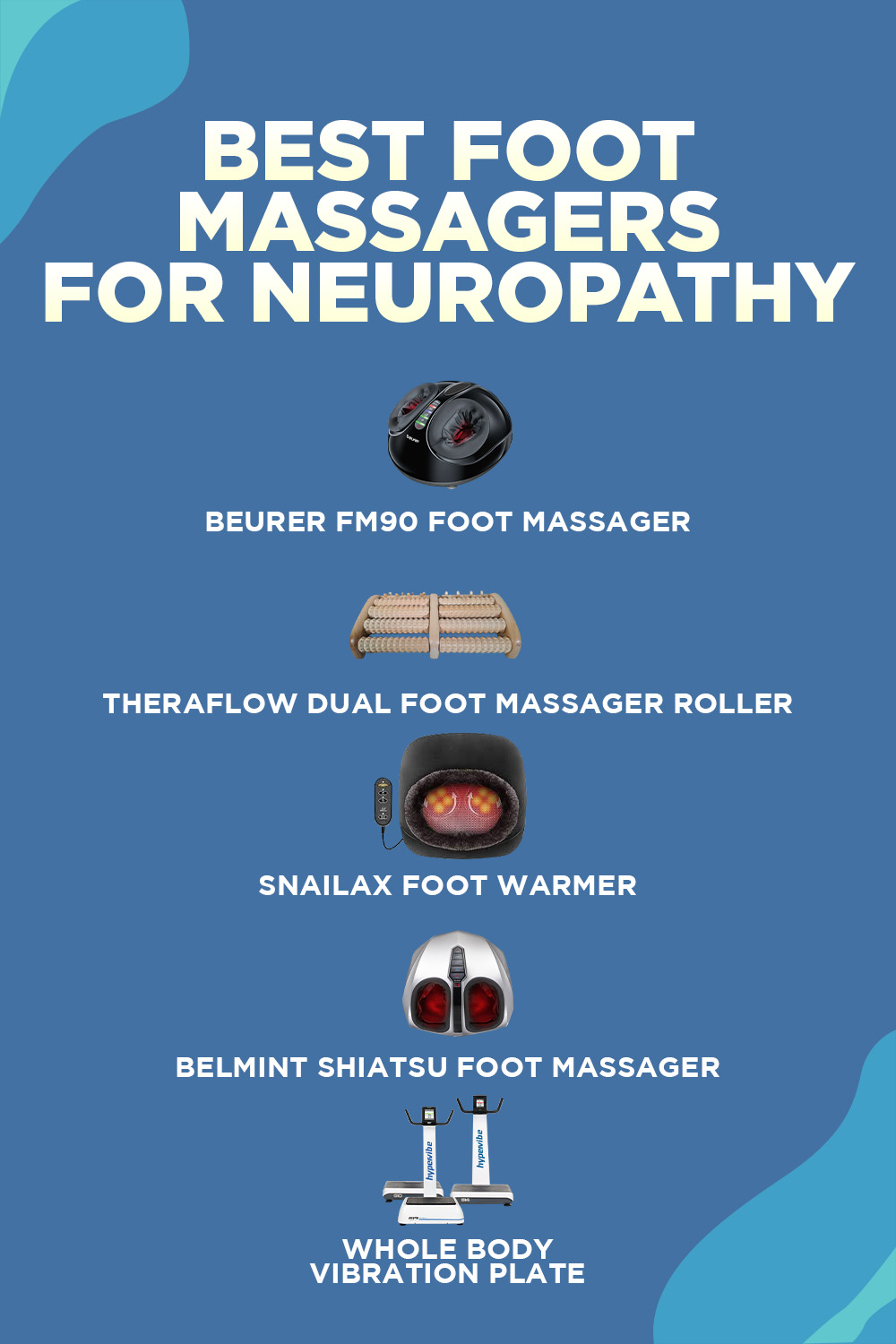 Beurer FM90 Foot Massager

The Beurer FM90 may not be the cheapest, but it's a joy to use. You can choose from a variety of Shiatsu techniques, as well as a variety of strength levels and the option to add heat to your foot massager.

Although it's a touch noisy, the air compression option is the most pleasant and relaxing. Up to a UK12 size, the black half-dome has an easy-to-use control panel and is ideal. You won't be sorry if you buy this for your sore toes.

Theraflow Dual Foot Massager Roller

You don't absolutely need an electrical device to massage your feet, as this affordable and effective wooden device has 10 separate rollers carefully constructed to touch the pressure points on your foot.

Knots and tension can be loosened by running your foot over them. You can take this device with you wherever you go and never have to worry about plugging it in again. Because of its inexpensive price and unexpected effectiveness (as long as you're willing to work for it), this foot massager made our list of the top foot massager selections.

Snailax Foot Warmer

Despite the lack of rollers, this device uses vibration and heat to stimulate your feet. There are five vibration massage settings, you may turn the heat on and off, and the device automatically shuts off after 15 minutes of use. '

If you're seeking for a more intense workout for your feet, consider elsewhere on this list because the vibration is quite faint.

As a positive side effect, you may remove the top cover and use it as a vibration/heat pad for other regions of your body (such as your back, neck, and legs). Additionally, the non-slip rubber bottom keeps it firmly in place, and a two-year warranty gives you peace of mind.

Belmint Shiatsu Foot Massager

Even though it doesn't include air compression or heat, the Belmint Shiatsu Foot Massager provides an excellent deep-kneading foot massage in a single, reasonably cost device. Nodes on the sole of your foot give a deep-kneading massage to stimulate blood flow and alleviate stress.

It's also quite simple to use. Just click the centrally-placed button (which is tilted toward you, so you can operate it with your toes) and insert your feet. You're all set. It's red while it's hot, and turns blue when you push it a second time.

To keep your feet cool, the mesh insert is constructed of a breathable fabric that can be removed and washed for easy cleaning. Nothing groundbreaking, but for the low price, what's on offer is quite good.

Hypervibe Vibration Plate

People from all over the world choose Hypervibe as their preferred Whole Body Vibration platform for a variety of reasons, but the most important factor is that they're more informed consumers.

It doesn't matter how many functions a computer claims to have; only a handful are truly important. When compared to other brands, Hypervibe always wins when the following two crucial aspects are taken into account.

When it comes to G force per dollar, Hypervibe is the best. Low, medium, and high vibration frequencies are all produced by Hypervibe.
Sources:
https://massagegunfight.com/best-foot-massager-for-diabetics/
https://pposac.com/blog/neuropathy-massage/
https://alamitos-sealbeach-podiatry.com/are-foot-massagers-good-for-diabetics/
https://massagegunfight.com/can-you-use-a-foot-massager-too-much/
https://www.humantouch.com/blog/all-things-considered-what-are-the-effects-of-massage-for-people-with-diabetes.html#:~:text=Thus%2C%20a%20foot%20massager%20for,which%20massage%20can%20help%20increase.
https://www.t3.com/features/best-foot-massager