Effects of Whole Body Vibration on Gait [Studies]
13th February 2015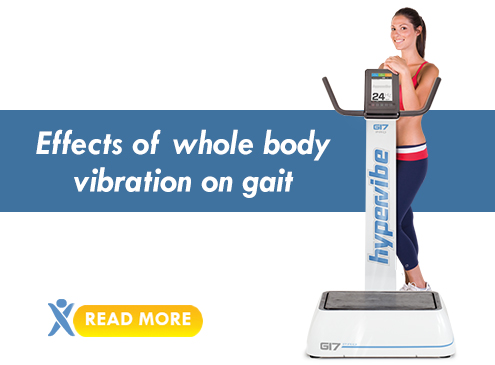 Whole body vibration has been shown to be efficient in improving muscle strength and bone density, as well as in exerting a positive effect on balance and posture. However, the results of WBV exercises depend not only on the parameters used during the training sessions but also on the health state and physical limitations of the users.
Some groups of people may see little to no improvements after training on a vibration plate, while others can notice the effects after the first sessions, depending on the purpose they use WBV for. In today's article, we'll discuss the influence of vibration training on gait in both healthy people and individuals suffering from conditions that affect their ability to walk.
1. Effects of WBV on gait in Parkinson's disease sufferers
German researchers at the Movement Disorders Clinic have investigated the influence of vibration exercises on gait, in people with Parkinson's disease. In the study published in the Archives of Physical Medicine and Rehabilitation, they've focused on the effects of this form of therapy on gait and balance, and have compared the results obtained with WBV with those achieved with conventional physiotherapy.
Patients have received 2 15-minute sessions of WBV per day, 5 days a week, exercising on an oscillating vibration platform. After 30 sessions, equilibrium and gait improved in both groups of patients, but there was no conclusive evidence for the superior efficacy of WBV compared with conventional balance training.
2. Vibration training and gait in patients with cerebral palsy
Another study published in the Journal of musculoskeletal and neuronal interactions investigated the effects of whole body vibration on gait, in patients suffering from cerebral palsy. 8 adults aged 20 to 51 received 5 1-minute bouts of vibration training, followed by 1 minute of rest.
This short exposure to hypergravity was enough to cause a significant increase in the walking speed, dynamic ankle range of motion and stride length. Results suggest that vibration training can be a reliable, safe, and time-saving solution for improving measures of gait and mobility in adults affected by cerebral palsy.
3. WBV effects on gait in people with COPD
People with chronic obstructive pulmonary disease may also benefit from whole body vibration, which is a safe way of exercising for this group of patients. A study published in BMC Pulmonary Medicine showed that WBV doesn't exacerbate COPD symptoms and that patients who perform this form of physical activity are likely to stick with the routine.
16 adults were involved in this trial, the compliance to the 6-week WBV intervention being 100%. WBV contributed to improvements in gait and the functional performance of the lower limbs, as well as to a better ability to perform everyday activities. No side effects were noticed during this trial.
4. WBV exercises and walking ability in patients with spinal cord injury
Researchers at the University of Miami Miller School of Medicine showed that vibration therapy can be effective in improving the walking function in patients with spinal cord injuries, the effects lasting for some time following the intervention.
17 individuals with chronic SCI were involved in this study, each of them receiving 12 sessions of WBV (3 days/week, for 4 weeks). At the end of the treatment period, there were statistically significant improvements in the walking speed, as well as increases in the cadence, step length, and consistency of intralimb coordination.
5. Vibration therapy and gait in patients with multiple sclerosis
Finally, another study, this time conducted by researchers at the Academic Teaching Hospital Wagner-Jauregg, Austria, investigated the effects of whole body vibration on gait in people with multiple sclerosis.
18 patients with MS received vibration therapy for 3 weeks, but results showed no statistically significant changes in the investigated gait parameters -stride length, gait velocity, single-step variability left and right or double support phase.
Have something to add to this article? Comment below or join our Facebook community and share your thoughts with us!