New Research on the Effects of Vibration Training
25th November 2014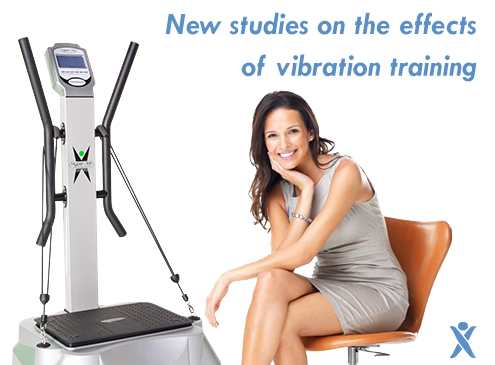 New studies show potential applications of vibration exercise in kids with disabilities, patients with fatty liver disease and postmenopausal women with osteoporosis.
Whole body vibration therapy in disabled children
A review study published earlier this year in the Journal of Adolescent Health suggests that whole body vibration therapy could be a safe and useful method of improving health-related physical fitness in children with disabilities.
The study summarized the current literature regarding the effects of vibration training on the health state of disabled children and adolescents, concluding that most of the reviewed papers have shown positive effects of WBV.
The average length of the therapy sessions in most studies was 10-20 minutes, with 3 WBV sessions per week, for a minimum of 26 weeks. Most studies have used a frequency between 15 and 35 Hz and a low amplitude, of up to 4 mm peak-to-peak. No side effects have been observed.
Vibration training and osteoporosis
Another study published in the Calcified Tissue International journal showed that vibration training can slightly decrease the calcaneal broadband attenuation (BUA), a parameter that is used for predicting the occurrence of fractures and diagnosing osteoporosis.
Canadian researchers who conducted this study showed that WBV didn't have any significant effect on the other investigated parameters. Participants – 202 postmenopausal women – have followed a 12-month protocol with WBV, performing daily sessions of vibration training at 30-90Uz, 0.3G, for 20 minutes.
The purpose of this study was to investigate the potential effects of WBV on calcaneal quantitative ultrasound measurements. Quantitative ultrasound (QUS) is a screening tool that uses sound waves for measuring the health of bones and diagnosing osteoporosis. This method can provide information regarding the density of bones, their mechanical characteristics and microarchitecture, and is radiation-free and safe.
Vibration exercise in patients with fatty liver disease
A study published in the journal of Therapeutics and clinical risk management showed that vibration training has positive effects in patients with nonalcoholic fatty liver disease (NAFLD). 18 patients have followed a 12 weeks treatment, performing 20 minutes of acceleration training per day, twice a week.
Scientists found that the vibration program contributed to a slight increase in the strength of the quadriceps, and a significant reduction in intramyocellular lipids. At the same time, most patients have experienced a modest reduction in body weight, abdominal visceral fat and hepatic fat. Patients showed improvements in physical function and role, social functioning and general health.
Have something to add to this article? Comment below or join our Facebook community and share your thoughts with us!