Here's Why You Should Choose Hypervibe Over Vibroslim Ultra Pro
24th December 2021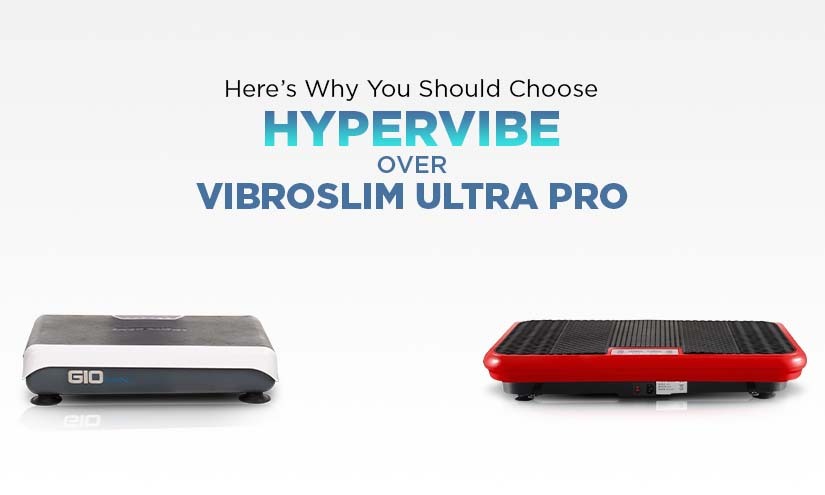 Increased muscle power, improved circulation, stronger bones, accelerated physical recovery, relieving chronic back pain, and decreased body fat percentage are just some of the benefits associated with whole-body vibration (WBV). Indeed, the exercise that is performed on a body vibration machine has gained quite momentum over the past decade or so, and for a good reason. There is ever-growing scientific evidence related to WBV showing some pretty promising results.
Before you join the body vibration "club" however, you should consider one very important aspect – not all vibrating plates currently on offer are capable of delivering the promised results. Some are great at that, but some are mildly put appalling. Two of the leading brands on the vibration fitness market are undoubtedly Hypervibe with their G-series platforms and Vitality for Life with their Vibroslim Ultra Pro (VUP) plate. But which one is better anyway? Keep reading and you will soon find out.
Hypervibe vs Vibroslim Ultra Pro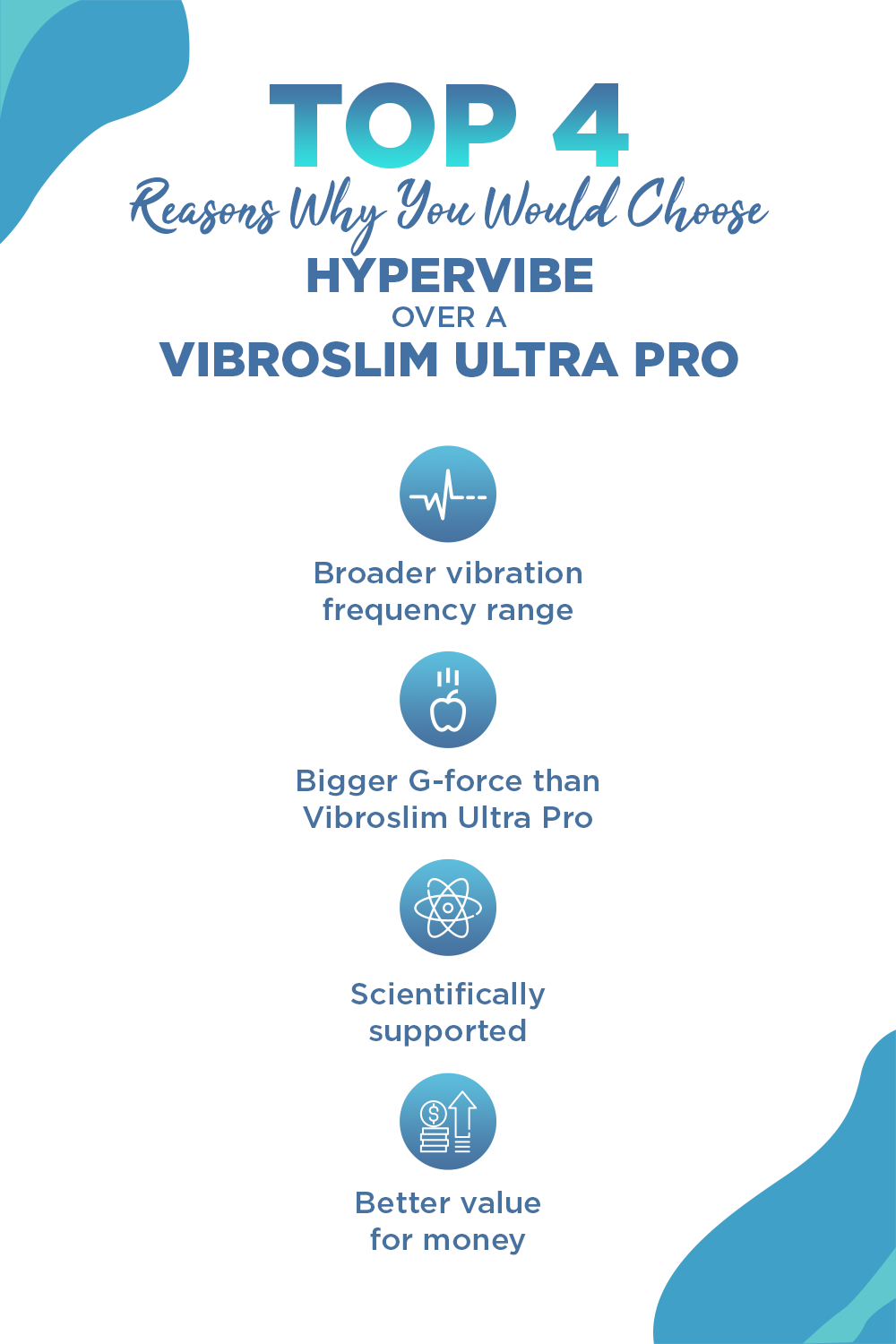 Upon considering a purchase of a vibrating plate, you should take several important factors into account. The range of the vibration frequency, the level of the G-force, the convenience offered, the warranty provided, the price range, and the scientific evidence, are among the major ones. When compared to these vital factors, one of the two brands is way more superior to the other. Which one? That is right – Hypervibe vibration platforms beat Vibroslim Ultra Pro in every major category, including value for money.
All of the four G-series models currently available (G10, G14, G17, and G25), offer a much broader frequency range, a much bigger G-force, and a much better value for money, than Vitality for Life's model. And if you are not yet fully convinced, then you should consider the following fact – Hypervibe machines are supported by numerous peer-reviewed studies, whereas VUP lacks any scientific support whatsoever. Below are some of the biggest reasons why you would choose Hypervibe over Vibroslim Ultra.
Broader vibration frequency range
When it comes to whole-body vibration, the frequency range is among the most important factors to consider. In this context, frequency is used to describe how many times the vibration plate goes up and down through one full movement cycle. According to scientific research, the different frequencies are linked to different health effects, with some of the most positive outcomes being observed at frequencies within the 20 – 30 – 40 Hz range.
When comparing Hypervibe vs Vibroslim Ultra Pro, it becomes obvious that even the least powerful G-series model (G10) delivers a frequency of 25Hz, whereas the maximum frequency capability of Vibroslim Ultra is barely 11Hz. If you want to rip off all the health-associated benefits of WBV, you need to aim at a higher frequency range (but no more than 40Hz).
Bigger G-force than Vibroslim Ultra Pro
G-force is the other major consideration factor when we talk about whole-body vibration and its related health outcomes. The letter "G" stands for "Gravity" where 1 G equals Earth's gravity, 2 G's is twice Earth's gravity, and so on. It is related to the intensity of the vibrating exercise, and the more G-force the body experiences, the better its response, and the bigger the health benefits (once again – up to a certain level).
Unfortunately, the G-force produced by Vibroslim Ultra does not come anywhere near the one delivered by Hypervibe models. Just for comparison, VUP is capable of providing 3.5 G's at maximum, whereas Hypervibe machines start at 10 G's (G10 model), and go all the way up to 25 G's (G25 Galaxy model). For best health results, do not exceed G-forces above 25 G's as otherwise, you risk hurting vital bodily organs.
Scientifically supported
Fitness equipment manufacturers can make as many claims as they like for their products, but if they are not supported by scientific evidence, they become true nonsense. This is why, before you hit the "Buy" button, you should give this aspect a serious thought, especially when it comes to your health, and that of others.
When sifting through the clinical trials, such as this one, it becomes evident that the name of Hypervibe pops up often, whereas Vibroslim Ultra has not been supported by even one scientific study to date. What is the main reason behind that fact? It is a simple one – VUP has not been able to deliver the minimum vibration levels that are required for the conduction of a scientific trial.
Better value for money
Bigger G-force, broader frequency range, better convenience, easier to move around, and less noise, are among the biggest price determinants, related to body vibration machines. Usually, the bigger the G-force – the heftier the price range. The same is true for the frequency level and other specifications of the Vibro plates, including amplitude and number of gadgets.
Thanks to the hard work and immense commitment of team Hypervibe, the company's models offer a much better value for money, compared to the rest of the brands within the vibrating fitness field, including Vitality for Life and their flagship model (VUP). Furthermore, Hypervibe machines have been shown to deliver the most G-force per dollar spent, and the most adequate frequency range for reaching your fitness goals.
Final thoughts
To date, there is a significant amount of scientific data related to the health effects of whole-body vibration. When going through the evidence, it becomes pretty obvious that the body vibration machines work, and are capable of giving the results they promise. Having said that, it is worth mentioning that not all vibration platforms are equal in that matter – some are great, and some are truly disappointing.
For that reason, before you are opt-in for a vibrating plate, you must do your research and consider all the major factors. The current leader in the field is undoubtedly Hypervibe with its G-series models, which apart from all the other benefits come with a generous warranty of 2 years labour, 5 years parts, and 10 years motor protection.
Hopefully, this article has equipped you with all the vital information you need and has helped you narrow down your choices, related to the purchase of a body vibrating machine. Shop wisely!
References (in order of appearance)
Whole Body Vibration – an overview | ScienceDirect Topics
Turner, Anthony P; Sanderson, Mark F; Attwood, and Lynda A (2011). The Acute Effect of Different Frequencies of Whole-Body Vibration on Countermovement Jump Performance, Journal of Strength and Conditioning Research: June 2011 – Volume 25 – Issue 6 – p 1592-1597.
Whole Body Vibration Training on Body Composition (2017), ClinicalTrials.gov