Video: Teresa Talks About Her Experience Using WBV
11th July 2013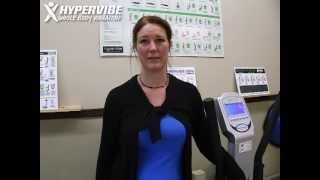 Teresa, a mom, says she has "nothing but good things to say about whole body vibration." She credits a balance of healthier eating and whole body vibration training with her recent 40-pound weight loss.
She also says WBV is the only thing—out of the myriad methods she has tried—that has diminished the appearance of cellulite. She was so happy with her results that she bought a vibration machine for her home.
Watch Teresa tell about her whole body vibration experience here:
Read here about the benefits of whole body vibration.
Change your life for the healthier today. Call us for more information: 1800 497 378