Top 7 Fitness Trends Causing a Stir at Canfitpro
12th September 2013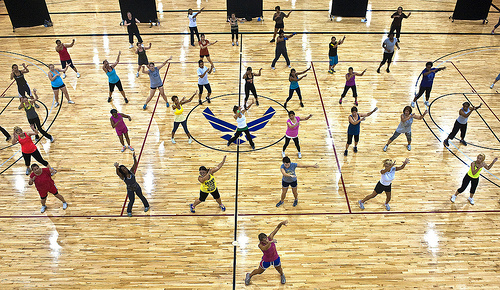 So last month was CanFitPro Toronto, North America's largest business conference and trade show for the fitness industry. It was a blast! Dozens of presenters, an amazing schedule of sessions and classes…it really was a mecca for the health and wellness professional.
If you've never been to a CanFitPro event, you should think about hitting the next one. They're always a great resource for learning about the top trends in the fitness industry. Here are six of our favorite rising trends from CanFitPro:
1. Kettlebell
Training with these weights—they look a little like cannonballs with handles—is not new. Russian bodybuilders started training with them in the 1700s. But they've recently started showing up in mainstream group exercise classes. The KBell Training Academy [http://kbelltrainingacademy.com/] was on hand at CanFitPro to give workshops and classes within this versatile, effective method.
2. Dance fitness
Some of the easiest classes to locate at the trade show were the dance fitness classes. Just follow the thumping music and hollering participants in their brightly colored clothes. Zumba®, Groove, and other dance-inspired fitness programs featured heavily around the event. Look for these classes at your local gym for a fun way to fit in some cardiovascular training.
3. TRX®
This innovative method of bodyweight training has been steadily gaining followers in the last few years. TRX involves using specially designed straps to suspend your body while you push, squat, pull and bend your way to better strength.
4. Whole body vibration
Hypervibe Canada was there, representing whole body vibration!  Deb and the team met a lot of great people and helped introduce a steady stream of attendees to the WBV platforms we had on hand. We dare say many people left that weekend talking about the amazing benefits of vibration training!
5. Barefoot exercise
Another method slowly moving from the fringes of fit society to the mainstream, this methodology has benefitted from devoted followers who are intent upon spreading the barefoot massage. Experts in the field gave workshops on barefoot running and general foot fitness.
6. Kranking®
The creator of Spinning® has come up with the upper-body equivalent to his enormously popular cycling classes. Kranking uses an upper-body crank that has, until now, only been found in rehabilitation centers, and brought to the group exercise facility. Look for this class in a gym near you and get ready for a great arm workout.
7. HIIT – High Intensity Interval Training
Another trend that isn't new but is getting a new spin, high-intensity interval training consists of bursts of hard exercise interspersed with periods of rest. Devotees say training this way torches fat in a fraction of the time. One of the biggest talked-about HIIT classes was BodyShred with Jillian Michaels of Biggest Loser fame.
Whatever moves you—whether it's dancing, lifting, or vibrating—these trending techniques are sure to hit a gym near you, if they haven't already. Do your body a favor and check out something new!'
What are your favorite fitness trends? Let us know in the comments, and read more about the benefits of whole body vibration in our infographic!
Resource:
http://www.huffingtonpost.com/2013/01/01/health-trends-2013_n_2377289.html