Rehab Summit 2019: Calling All Clinicians by Katerina Liapis, MSPT
05th August 2019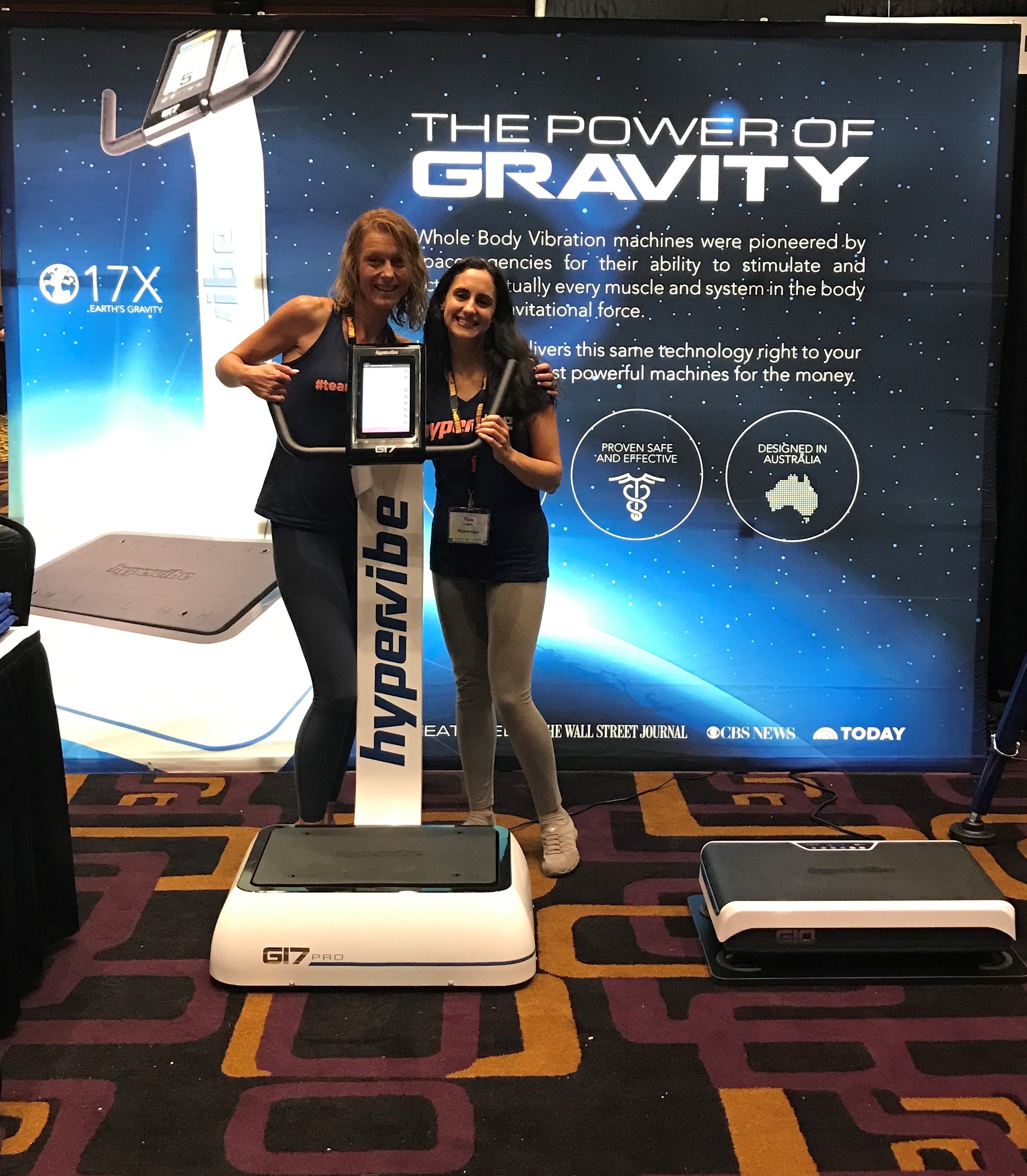 At the end of July, my colleague, Debby Pelletier, and I had the opportunity to represent Hypervibe at the 13th Annual Rehab Summit in Las Vegas.  This conference was a three-day event which offered educational sessions for rehabilitation professionals, featuring guest speakers as well as a variety of exhibitors.  We were fortunate to connect with many companies that are on the leading edge of their industries. Being in the presence of others who enthusiastically promoted their products enlightened us in ways that inspire innovation.
Education has always been a passion of mine.  As a physical therapist, it was especially rewarding for me to engage with fellow clinicians at this event.  In the process of learning about them and their practice settings, I was able to identify the various ways in which Hypervibe could be helpful to their patients.  For many of these therapists, whole body vibration was a new concept. Debby and I were excited to introduce the technology and witness their reactions as they stepped on the Hypervibe for the first time.  Some enjoyed the session so much that they didn't want to leave, as they experienced much needed relief from aches and fatigue after navigating the exhibition hall all day. Forgetting momentarily about the health and fitness benefits that whole body vibration offers – it just feels good!
As the healthcare landscape continues to change, the time that clinicians are permitted to spend with their patients has become increasingly limited.  Therapists are constantly required to think outside of the box in order to make sessions productive and successful. Finding practical interventions is undoubtedly a great challenge.  How can treatment time and outcomes be maximized? Whole body vibration is extremely effective due to the high degree of muscle activation that it elicits. While it can be integrated into the therapy treatment plan to augment strength and balance training, improve flexibility, promote pain relief and even facilitate total body relaxation, perhaps its biggest draw is its efficiency.  Conservation of time and energy are of the utmost importance to patients and therapists alike.
Although our primary focus was to highlight the ways in which Hypervibe would be instrumental in patient care, we also emphasized to the therapists that it can help them address their physical ailments, especially those associated with their jobs.  Neck and back pain, joint pain and osteoarthritis are some examples of conditions that therapists may develop which become exacerbated as a result of the many strenuous movements performed during daily work routines. Overuse injuries such as tendonitis and carpal tunnel syndrome are often inevitable due to the repetitive nature of certain activities, including the hours of writing or typing required to complete documentation.  Chronic pain is especially prevalent in therapists who implement a heavy amount of manual care.
I can definitively say that the healthcare industry has very few measures in place to support the well-being of clinicians.  All too often, the strain of delivering patient care takes a toll on those who provide it. Although therapists are highly aware of the importance of staying in shape, it is not uncommon for even the most fit individuals to sustain injuries that interfere with their job performance.  Another factor that is widely overlooked is the significant emotional stress associated with the therapy profession which ultimately has a negative impact on patient care.
What are some quick methods that a therapist can use to achieve physical rejuvenation and stress relief?  One excellent solution that healthcare facilities and clinics could consider would be to offer whole body vibration as a component of a corporate wellness program.  A few minutes on the Hypervibe can alleviate pain, increase circulation and may even improve alertness and mood. Having the option of doing a quick restorative treatment would be priceless to clinicians who have little time for self-care.  On a larger scale, businesses who make this small investment in employee wellness may notice improvements in productivity, quality of care and job satisfaction.
As the level of awareness about whole body vibration increases, its many benefits are now being realized.  From paediatrics to geriatrics, from orthopaedics to neurology and everything in between, the applications of whole body vibration are vast.  Once the basic principles are understood, one is only limited by the extent of personal creativity. Hypervibe is committed to sharing knowledge with the goal of improving the quality of life of individuals worldwide.  With this in mind, we are calling all clinicians to connect with us and learn more about the potential of whole body vibration to enhance health and wellness.
http://www.cvent.com/events/13th-annual-rehab-summit-conference-expo-sponsor-exhibitor-registration/event-summary-7ed2786bccfb419b823ab212138b121a.aspx?dvce=1