What Is the Best Vibration Plate for Home Use?
15th April 2022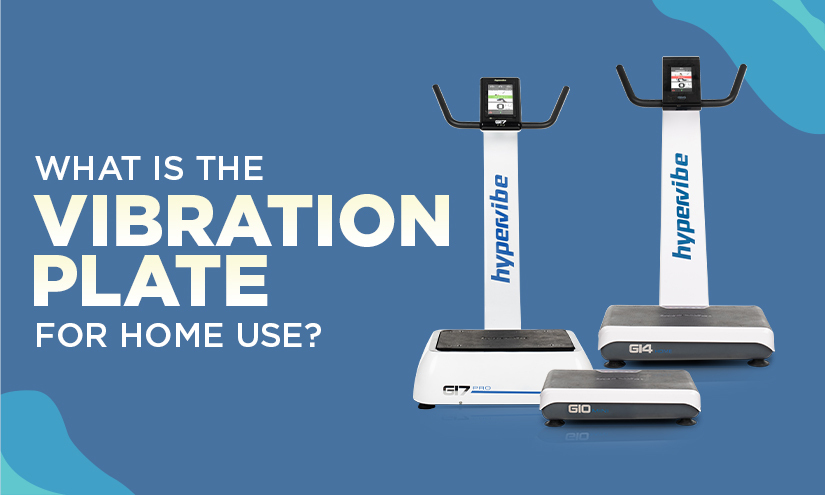 Vibration plates have been around for quite some time, benefiting our health in more or less every way. Raised bone mineral density, boosted muscle power, improved circulation, alleviated chronic pain, and reduced fat mass is just a fraction of the numerous examples in that matter. But the good news does not end there.
Over the past decade or so, the body vibration machine has been steadily making its way into our homes. Hundreds of thousands of households around the globe and the UK are already proud owners of the innovative fitness equipment, thus saving time and gym commutes for their occupiers.
But are all machines for home use equal and if not, what is the best vibration plate for home use? In the following lines, we are going to explore this question in greater depth.
What type of vibration plate is best?
Futuristic by look, yet simplistic by design, the vibrating machine consists of a platform that produces high-frequency mechanical oscillations. According to science, these oscillations pass through your body forcing your muscles to contract at a greater rate, compared to traditional physical activity. Keep in mind though that not all models currently on the market will deliver the same beneficial results.
While there are some exceptional machines out there, the majority of the models are still miles behind. So, what is the best vibration plate for home use then? Well, this would be the one that offers you the most extensive range of settings and gives you the best value for money. As a starting point, you can turn to the pivotal type of vibration plate.
How do I choose a vibration plate for home use?
There is no doubt the home fitness market offers an abundance of body vibrating plates. Each of these models comes with a myriad of settings, capabilities, and specs. The choice is indeed broad, however, this creates more of an inconvenience, as opposed to benefits. If you start comparing all of the existing machines and trying to find what is the best vibration plate for home use, you can end up even more confused.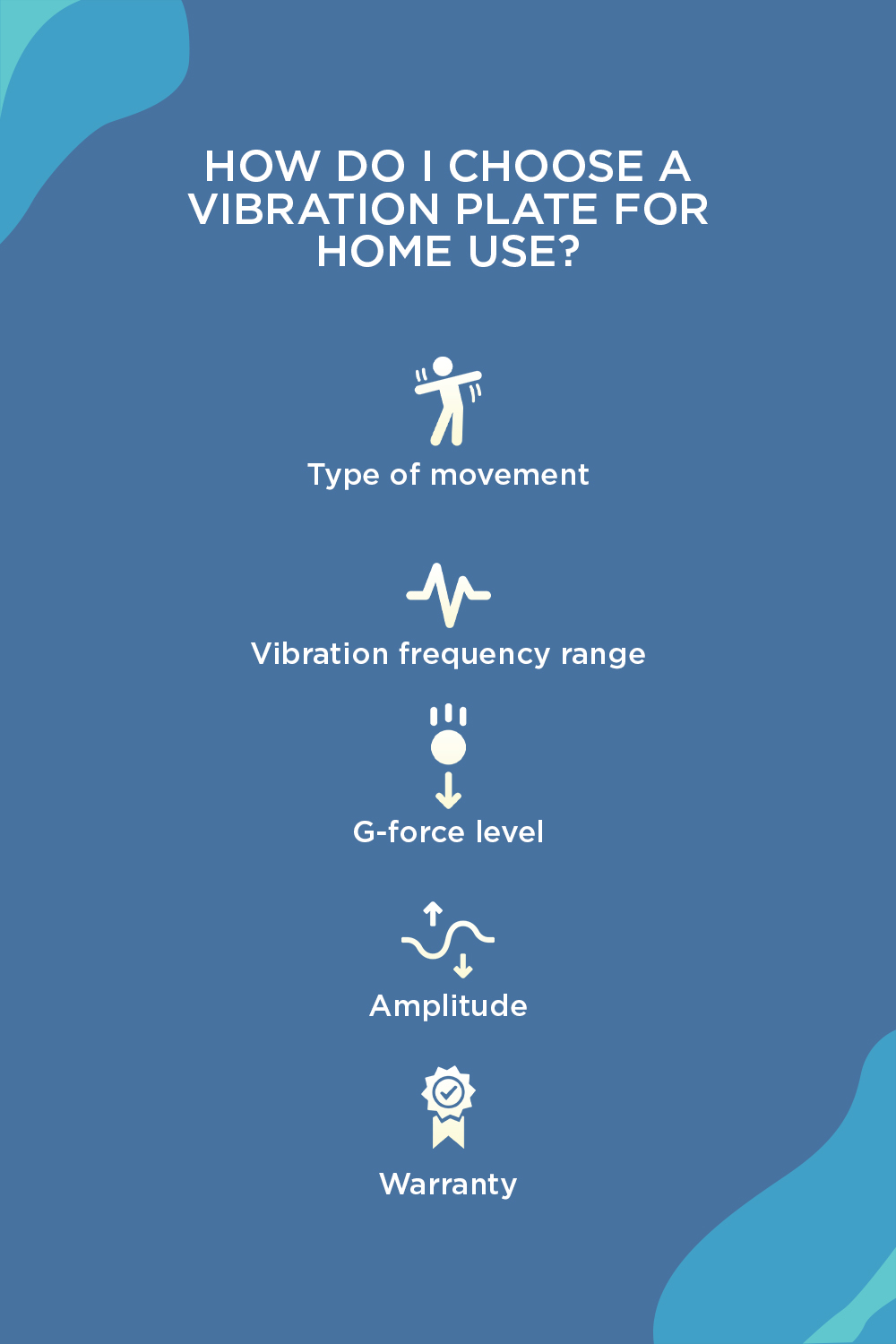 No room for worry though, as below we have pointed out some of the most important factors you should pay attention to when choosing a vibration plate for your home. Use the info as a guiding hand and make sure you do your homework well before you hit the "Buy Now" button. Here are 5 of the most important purchasing determinants:
Type of movement: The best vibrating platforms on the home fitness market offer pivotal type of movement, as opposed to lineal;
Vibration frequency range: This is the setting that divides the great plates from the not so great ones. A frequency range within 5 – 40 Hertz is what you should be looking for;
G-force level: The machines that offer G-force acceleration between 10 – 25 Gs have been considered the most beneficial;
Amplitude: A good model will offer various amplitudes that you can adjust according to your personal preferences. Ideally, it would be going all the way up to 8 mm;
Warranty: The best vibrating plates come with an outstanding warranty, covering all aspects, including motor, parts, and labour;
Are home vibration plates any good?
Up until recently, the vibration plates have been somehow reserved for gym use only. Their bulky size, high price range, and lack of sufficient information in terms of benefits were some of the major reasons for that. Today, this is no longer the case. The popularity of the vibrating equipment for home use has grown substantially, saving time and financial resources for their proud owners.
In that line of words comes the question of whether home vibration plates are any good. Well, if you had asked this question 10 years ago, the answer would have been something like: "Not yet". At the beginning of the third decade of the 21st century, however, things are way more different. Thanks to the implementation of the latest technologies in the field and the hard work of companies like Hypervibe, the vibrating plate has experienced its own silent evolution.
What is even more, according to scientific data, the device requires only 20 – 25 minutes per day, 3 – 4 days per week of your precious time. That's all that it takes for you to experience the whole spectrum of health benefits.
Are vibration plates worth buying?
As previously mentioned, the vibrating plate of the 21st century has nothing to do with its predecessors from 50 years ago. Well, the principle is still the same, but that's all in terms of similarities. Today, the equipment boasts an innovative design and numerous technological improvements, which have taken whole-body vibration (WBV) to a totally new level.
Currently, the platform is compact enough, much more affordable, and backed up with a massive amount of scientific evidence, proving its health benefits. You are now lucky enough, to have the opportunity to purchase a new model from the convenience of your chair and have it delivered straight to your door. Say goodbye to the longer gym commutes, crowded fitness centres, and money spent on monthly memberships.
So far, so good! Apparently, body vibrating equipment has undergone a massive improvement over the past several decades. It is now perfectly suitable for home use and most importantly – widely affordable. Here comes the ultimate question then: "What is the best vibration plate for home use?". Let's find out!
What is the best vibration plate for home use?
Hopefully, you have enjoyed the article so far and have found the information useful. It is now time to find out what is the best vibration plate for home use. Without a doubt, the overall winner would possess all of the aforementioned factors, such as a G-force within the 10 – 25 Gs spectrum; a broad frequency range of 5 – 40 Hertz; high enough amplitude of up to 8 mm, etc.
Additionally, the best vibration platform for home use will be compact enough so as to fit perfectly even in smaller spaces and will be offering an unbeatable value for money. So, is there a brand that offers all of the above specifications, available at present and if yes, what is it? That's right! The Australian company Hypervibe has been voted by users as one of the best vibration plates for home use.
Hypervibe was founded in 2008 by a passionate team of Australian engineers, and ever since the company has been upgrading its models, placing them among the most advanced, most beneficial, and most affordable machines on the home fitness market. You can benefit from 4 different models – G10 Mini, G14 Home, G17 Pro, and G25 Galaxy, all of which will give you an unmatched quality, broad range of specs, and an unbeatable value for your money spent.
Summary
Since its inception, the body vibration machine has been constantly upgraded, to reach a point that has made it the most wanted home fitness equipment of the 21st century. Stronger bones, better circulation, boosted muscle power, faster physical recovery, and reduced body fat percentage, are just some of the numerous benefits offered by the device.
The machine is now compact enough and way more affordable, which makes it the perfect home fitness equipment. Prior to making a purchase though, you should take into consideration the above-mentioned buying factors. Make sure you do your homework well and only purchase from a reputable and well-established manufacturer.
References (in order of appearance)
Dolny, Dennis, G., Reyes, G. and Francis, C. (2008). Whole Body Vibration Exercise, Current Sports Medicine Reports May 2008 – Volume 7 – Issue 3 – p 152-157.
van Heuvelen, M., Rittweger, J., Judex, S., Sañudo, B., Seixas, A., Fuermaier, A., Tucha, O., Nyakas, C., Marín, P. J., Taiar, R., Stark, C., Schoenau, E., Sá-Caputo, D. C., Bernardo-Filho, M., & van der Zee, E. A. (2021). Reporting Guidelines for Whole-Body Vibration Studies in Humans, Animals and Cell Cultures: A Consensus Statement from an International Group of Experts. Biology, 10(10), 965.
Park, S. Y., Son, W. M., & Kwon, O. S. (2015). Effects of whole body vibration training on body composition, skeletal muscle strength, and cardiovascular health. Journal of exercise rehabilitation, 11(6), 289–295.