Whole Body Vibration 3 Machine Giveaway from Hypervibe
09th May 2013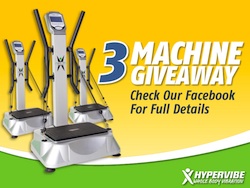 Hypervibe, a leader in whole body vibration machines, announced today that it will give away three whole body vibration machines – one in the United States, one in Canada, and one in Australia.
"Our goal at Hypervibe is to inspire people to better living through health and wellness. We created this contest to give people the chance to be inspired and inspire others to take action." Said Murray Seaton of Hypervibe, "We are very excited to offer up three whole body vibration machines, valued at over $7,000, to three deserving people.  We look forward to hearing participants' stories as they share how winning a whole body vibration machine could improve their lives and we know their stories will inspire others who think wellness is beyond their reach."
Whole body vibration machines stimulate the body in a variety of ways not possible with traditional forms of exercise. The machines pair gravity and resistance with the transmission of low-frequency vibrations to the body. Benefits of using the machine include increases in muscle power and strength, tone, circulation, bone density, balance, and flexibility.
Participants living in the United States, Canada, and Australia can enter to win a whole body vibration machine on the respective Hypervibe Facebook page by submitting their personal inspirational story in a video or written with photos. Each submission needs to include why the participant deserves to win the machine, what benefits they will get from it, and how they will use the machine.
Participants will also need to get their family and friends to leave comments, testimonials, and stories on their submission to explain why they should win. Hypervibe will choose three people from each region to continue to the second round. A public vote will determine the winner.
For more information, visit the following Facebook pages: Hypervibe USA, Hypervibe Canada or Hypervibe Australia.